01.10.2019 | Research Paper | Ausgabe 10/2019 Open Access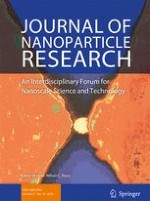 Optimum processing parameters for coating polyester with silica nanoparticles using gravity sedimentation
Zeitschrift:
Autoren:

Zihan Lu, Huw Owens
Wichtige Hinweise
Electronic supplementary material
Highlights
• The centrifuge and solvent replacement technique can remove unused reactants from the surface of silica nanoparticles produced using the solvent varying technique.
• These centrifuged SNPs (C-SNPs) have been dried over a greater range of temperatures than previously reported and the C-SNPs produce uniform photonic crystals on coated polyester.
• The photonic crystals produced from the centrifuged SNP solutions produce a narrower bandwidth of wavelength reflection. This produces a sharper reflection peak and more chromatic surface coatings.
Open access
This article is distributed under the terms of the Creative Commons Attribution 4.0 International License (
http://​creativecommons.​org/​licenses/​by/​4.​0/​
), which permits unrestricted use, distribution, and reproduction in any medium, provided you give appropriate credit to the original author(s) and the source, provide a link to the Creative Commons license, and indicate if changes were made.
Publisher's note
Springer Nature remains neutral with regard to jurisdictional claims in published maps and institutional affiliations.
Abstract
Gao et al. have proposed a facile method of silica nanoparticle synthesis called the solvent varying technique (SVT). Silica nanoparticles (SNPs) have been synthesized using the SVT. The diameters of the SNPs produced by these recipes are sensitive to drying temperature especially when they are used to form photonic crystal films on the surface of textiles. The colour appearance of the coated fabrics can be affected by unused reactants from the colloidal suspensions. These form a thin layer on the surface of the SNPs, which can adversely affect the constructive interference of light from the photonic crystal. In this paper, the original SNP solutions have been processed using a centrifuge and solvent replacement technique in order to reduce this problem. A TEM was used to record the morphology of the surface of the original and centrifuged particles. The resultant images show that there were fewer impurities present on the surface of the centrifuged SNPs than that of the original SNPs. DLS was used to measure the diameters and dispersion of the original and the centrifuged particles. A spectrophotometer was used to measure the reflectance of the samples. The chromaticities of the coated fabrics using both the original and centrifuged SNPs dried at a range of temperatures (40 °C, 60 °C, 80 °C and 100 °C) have been compared. It was determined that the centrifuged SNPs could be dried at higher temperatures than previously reported with little effect on the colour appearance of the photonic crystals.
×