2013 | OriginalPaper | Buchkapitel
12. Order Constraints on Message Delivery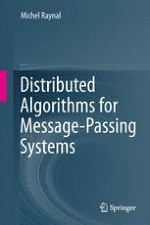 Erstes Kapitel lesen
Autor: Michel Raynal
Verlag: Springer Berlin Heidelberg
Abstract
High-level communication abstractions offer communication operations which ensure order properties on message delivery. The simplest (and best known) order property is the
first in first out
(FIFO) property, which ensures that, on each channel, the messages are received in their sending order. Another order property on message delivery is captured by the total order broadcast abstraction, which was presented in Sect.
7.​1.​4
. This communication abstraction ensures that all the messages are delivered in the same order at each process, and this order complies with their causal sending order.
This chapter focuses first on causal message delivery. It defines the corresponding message delivery property and presents several algorithms that implement it, both for point-to-point communication and broadcast communication. Then the chapter presents new algorithms that implement the total order broadcast abstraction. Finally, the chapter plays with a channel by considering four order properties which can be associated with each channel taken individually.
When discussing a communication abstraction, it is assumed that all the messages sent at the application level are sent with the communication operation provided by this communication abstraction. Hence, there is no hidden relation on messages that will be unknown by the algorithms implementing these abstractions.