11.12.2015 | Ausgabe 2/2016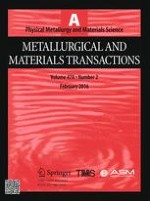 Ordering of Carbon Atoms in Free Martensite Crystals and When Enclosed in Elastic Matrix
Zeitschrift:
Autoren:

Dzhalal Aminulovich Mirzayev, Alexander Aminulaevich Mirzoev, Pavel Vladimirovich Chirkov
Wichtige Hinweise
Manuscript submitted June 9, 2015.
Abstract
The thermodynamic stability of tetragonal and cubic states of dilute Fe-C interstitial solid solutions is studied combining results of atomistic simulations with the thermodynamic theory. This approach allowed us to analyze the widespread Khachaturyan's theory of carbon ordering in martensite crystal lattice enclosed in an elastic matrix. The key parameter of the Khachaturyan's theory is
λ
0
, the strain interaction parameter. The value of
λ
0
calculated by A.G. Khachaturyan for a free martensite crystal (2.73 eV/atom) yields the critical concentration of carbon
c
cr
= 0.55 wt pct for room temperature. In fact, this concentration is close to 0.25 wt pct. A.G. Khachaturyan offered an improved theory of carbon ordering based on the assumption that decreasing the sizes of crystals along
z
axis will cause elastic resistance from surrounding crystals. The stresses arising when the martensite crystal is enclosed in an elastic matrix cause the appearance of a "tail" of order parameter at concentrations below the
c
cr
for free crystal, which explained the discrepancy between Khachaturian's theory and the experimental data. Our analysis shows the absence of this "tail." Over the last 10 years, the calculations of the strain interaction parameter
λ
0
have been made. The values of the parameter
λ
0
range from 5 to 10 eV/atom, in contrast to 2.73 eV/atom as defined by A.G. Khachaturyan. This fact has a great effect on the estimates of the critical carbon concentration at room temperature. This concentration becomes close to 0.2 wt pct, the value previously indicated by G.V. Kurdjumov. The reasons of abnormal tetragonality observed in the 0.2 to 0.6 wt pct C range are considered.