2019 | OriginalPaper | Buchkapitel
Organic and Biofertilization on Crop Production in Semiarid Regions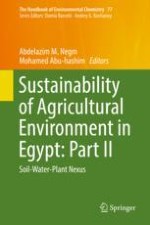 Erstes Kapitel lesen
Autor: Ayman M. Helmy
Abstract
Organic farming involves holistic production systems that avoid the use of synthetic fertilizers, pesticides, and genetically modified organisms, thereby minimizing their deleterious effect on the environment. Agriculture area under organic farming ranges from 0.03% in India to 11.3% in Austria. Organic agriculture is the system that favors the maximum use of organic matter and microbial fertilizers to improve soil health and increase yield. Organic agriculture has a long history, but it shows a recent and rapid rise. This article describes the importance of organic and biofertilizers in increasing the quality and productivity of developing crops under semiarid regions, especially in salt-stressed areas, and their role in improving the properties of these lands.
The organic farming system is largely dependent on the cycle of crops, crop residues, legumes, green fertilization, organic residues from outside and inside the farm to maintain soil productivity, and organic agriculture, as pest control, insect, animal, fungal or weed. The use of organic fertilizers, natural and manufactured instead of using chemical fertilizers, and the use of alternatives to pesticides and green pesticides are safe and have a good impact on agricultural products in terms of production of clean agricultural crops that are safe to human health and pollution-free.
In Egypt, the expansion of organic agriculture will be an added value in some areas of the project of reclamation of one and a half million acres, in addition to the state's interest in the expansion of agricultural plantations. Also, Egyptian organic agriculture has a comparative advantage in terms of production dates and quality of European market countries. The number of organic farming in the world is growing rapidly. In terms of numbers, the area cultivated by organic methods increased from 1.15 million hectares in the early 1970s to 11 million hectares in 1999 and reached 43.7 million hectares in 2014, which nearly quadrupled in 15 years. Egypt is ranked third after Tunisia and Uganda among African countries, where the area organically grown in Egypt according to global statistics to 85.8 thousand hectares in 2014.
Biofertilizers are preparations containing microorganisms that can supply plants with the necessary nutrients from natural sources, thus reducing dependence on different chemical fertilizers. These fertilizers can release nutrients continuously, making them sufficient to cover the needs of the treated plants. Biofertilizers are also sources of food for low-cost plants as a substitute for the use of mineral fertilizers, which have the effect of polluting the environment, whether for soil or water, when excessively used. These fertilizers are produced from microorganisms by selecting the desired microbes to multiply in suitable farms and then transferring the bacterial growth to a suitable liquid or solid carrier and are used as a vaccine, where they are added to the agricultural soil either as mixed with soil or mixed with plant seeds when planting. Only those microorganisms are used which have specific functions to enhance plant growth and reproduction by increasing the efficiency of nutrients and increasing their availability in soil.
This chapter gives a quick picture of the important use of organic and biological fertilizers to increase the efficiency of the fertilizers of macroelements, especially the nitrogenous one, and the effect of this on the productivity and quality of barley grains growing under the conditions of semiarid regions, especially those suffering from salt stress.