2017 | OriginalPaper | Buchkapitel
54. Organic Solar Cells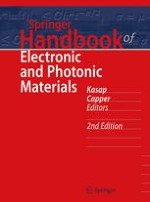 Erstes Kapitel lesen
Autoren: Masahiro Hiramoto, Yusuke Shinmura
Verlag: Springer International Publishing
Abstract
One of the responsibilities of scientists is to help develop new ways in which we can generate energy, since gaining control over energy resources such as petroleum has been one of the main reasons for conflict between nations. Renewable energy generated by solar cells is one of the potential solutions to the problem of maintaining our energy supply and these have been studied intensively for about half-century. Today, silicon solar cells have already been commercialized and have become an indispensable source of electricity. However, the price of electricity produced by silicon solar cells is still higher than that produced by petroleum. In order to increase the production of energy by solar cells, the price of electricity produced by solar cells needs to be lower than that produced by petroleum. Organic solar cells have the potential to be part of the next generation of low-cost solar cells. There was a steep increase in the power-conversion efficiency of organic solar cells around the year 2000, indicating that the technology needed to bring them to a commercial level would be established by around 2020, taking into consideration the example of organic electroluminescent devices for which scientific breakthroughs were made in 1987 and commercialization occurred around 2010. Now, in 2015, the power-conversion efficiency of organic solar cells has reached 12
%
.
Organic solar cells have many advantages; they are flexible, printable, light weight, and low cost, can be fashionably designed, and can be fabricated by roll-to-roll production, etc. Printed organic solar cells can be attached to the roofs, windows, and walls of houses and buildings. Automobiles wrapped with colorfully printed organic solar cells can be fabricated. Moreover, they are suitable for constructing solar power plants in space, since their light weight allows them to be easily put into orbit. In this section, the history, fundamental principles, and recent progress in organic solar cells are summarized.
The most essential factor for organic solar cells is the existence of excitons, that is, strongly bound electron–hole pairs. To efficiently generate photocarriers from excitons, donor–acceptor sensitization is used. Fullerenes acting as acceptors are used in present organic solar cells. Since the diffusion length of excitons is extremely small, blended junctions are used. Route formation both for photogenerated electrons and holes to the respective electrodes by phase separation is required for organic blended junctions. The magnitude of the photovoltage that can be obtained is determined by the difference between the lowest unoccupied molecular orbital (
LUMO
) of the acceptor molecules and the highest occupied molecular orbital (
HOMO
) of the donor molecules. Utilization of tandem cells has been effective in increasing the power-conversion efficiency. Today, the power-conversion efficiency of organic solar cells has reached 12
%
. For the organic semiconductor films used in organic solar cells, both small molecule films deposited by the dry process of vacuum evaporation and polymer films deposited by the wet process of spin coating are used.