26.03.2018 | Energy materials | Ausgabe 13/2018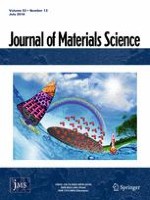 Organic vanadium oxy-acetylacetonate as electro-active anode material with high capacity and rate performance for lithium-ion batteries
Zeitschrift:
Autoren:

Xinran Wang, Shaona Wang, Yi Zhang, Hao Du
Wichtige Hinweise
Electronic supplementary material
Abstract
Vanadium oxy-acetylacetonate (VO(acac)2) was originally explored as an organic anode material for lithium-ion batteries (LIBs) with high capacity and rate performance. Specifically, the prepared VO(acac)2 has delivered capacity of 620 mA h g−1 at current density of 100 mA g−1 with nearly 100% coulombic efficiency during cycling. Furthermore, the cell exhibits good ultralong cycle stability and performs capacity of 508.5 mA h g−1 after 1000 cycles under 1000 mA g−1. Therefore, in the absence of any structure manipulation or conductive additives, the pristine VO(acac)2 shows high promises as advanced anode candidate of high capacity for LIBs.