01.04.2020 | Original Article | Ausgabe 8/2020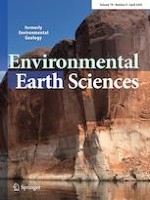 Origin and signs of disturbance of hyperarid climate wetland ecosystem: case of Chott Ain Beida, Algerian Sahara
Zeitschrift:
Autoren:

Merzouk Zatout, Mohamed Mehdi Kadri, Messaoud Hacini, Ahmed Hichem Hamzaoui, Adel M'nif
Wichtige Hinweise
Publisher's Note
Springer Nature remains neutral with regard to jurisdictional claims in published maps and institutional affiliations.
Abstract
Chott Ain Beida is an inland sabkha located in southern Algeria. Close to Ouargla city, it is surrounded by an exploited palm groove. In this study, modern climate of Ouargla region updated, surficial geology determined and geochemistry of its brines studied relative to geogenic factors and anthropogenic stress. Mean temperature increased by 2 °C, and thermal amplitude by 1.5 °C. The surficial lithology consists of eolian sand, evaporites and rich-organic matter clay. It is characterized by a rapid vertical and lateral changes which make some areas isolated and others communicating to drainage network and shallow/deep-water springs. This induced the heterogeneity of brines over the chott. The insulate areas show high total dissolved solids (> 230 g/L), high concentration factor (4 ÷ 8), high ionic strength (> 3), high Cl−/SO42 ratio (> 2.3) and high Mg2+/Ca2+ ratio (> 3), while the communicating areas present lower values of the same parameters. The diluted brines are Na+ + Mg2+_sulfate and have undergone an evaporative concentration geochemical process while the concentrated others are Na+ + Mg2+_chloride and show the cessation of evaporation process. The positive saturation indices reveled the occurrence of vaterite which is confirmed by the results of X-ray powder diffraction and energy-dispersive X-ray spectroscopy. Vaterite formation was possible after the combination of all the necessary reagents, namely presence of calcium, bicarbonate, phosphate, ammonium and carbone dioxide gas. These chemical reagents are provided by organic and mineral pollution. Vaterite formation begins with the presence of ammonium and remains more than 250 h before its transformation to calcite. Its formation sequestered important quantities of carbon dioxide.