2018 | OriginalPaper | Buchkapitel
5. Orthogonality, Orthogonal Decomposition, and Their Role in Modern Experimental Design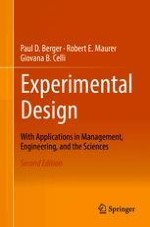 Erstes Kapitel lesen
Autoren: Paul D. Berger, Robert E. Maurer, Giovana B. Celli
Abstract
In Chap.
2
, we saw how to investigate whether or not one factor influences some dependent variable. Our approach was to partition the total sum of squares (TSS), the variability in the original data, into two components – the sum of squares between columns (SSB
c
), attributable to the factor under study, and the sum of squares within a column (SSW), the variability not explained by the factor under study, and instead explained by "everything else." Finally, these quantities were combined with the appropriate degrees of freedom in order to assess statistical significance. We were able to accept or reject the null hypothesis that all column means are equal (or, correspondingly, reject or accept that the factor under study has an impact on the response). In Chap.
4
, we discussed multiple-comparison techniques for asking more detailed questions about the factor under study; for example, if not all column means are equal, how do they differ? We now present a more sophisticated, flexible, and potent way to analyze (or "decompose") the impact of a factor on the response, not limited to pairwise comparisons.