29.12.2016 | Original Contribution | Ausgabe 2/2017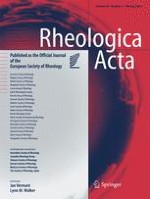 Oscillatory extensional rheology of microscale fluid filaments
Zeitschrift:
Autoren:

Sagnik Paul, Chirag Kalelkar, Pramod A. Pullarkat
Abstract
We exhibit results from oscillatory extensional deformation of microscale filaments of glycerol and polydimethylsiloxane (PDMS) using a microextensional rheometer (Rao et al., Rev Sci Instrum 84(105107):1–9
2013
). We decompose the tensile stress in the symmetry plane of the filament into a bulk stress and a surface tension-induced stress. Pipkin diagrams using Lissajous figures show the sample response from the bulk and from the filament surface close to the symmetry plane. For glycerol filaments with a length scale that is several orders of magnitude smaller than the capillary length of the material, surface tension forces induce a stiffening which enables measurement of an effective (bulk) tensile modulus. The surface tension-induced stress is found to exhibit an asymmetric response in the compression and expansion portions of an oscillatory cycle, in a regime that is far from buckling. Pipkin diagrams for the bulk and surface tension-induced stresses (in the symmetry plane) as a function of tensile strain are shown for PDMS. Power spectra for the measured stresses are also shown for both glycerol as well as PDMS filaments. Dimensional arguments are used to identify relevant forces which shape the dynamical response, for microscale fluid filaments under oscillatory extensional deformation.