01.09.2014 | Ausgabe 2/2014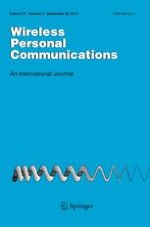 Outage Performance of Hybrid Decode–Amplify–Forward Protocol with the nth Best Relay Selection
Zeitschrift:
Autoren:

Ehsan Olfat, Ali Olfat
Abstract
In this paper, we consider the Hybrid Decode–Amplify–Forward protocol with the
\(n\)
th best-relay selection scheme. In the best-relay selection scheme, the best relay only forwards the source signal to the destination, regardless of working in the Amplify-and-Forward mode or the Decode-and-Forward mode. However, the best relay might be unavailable due to some reasons; hence we might bring into play the second, third or generally the
\(n\)
th best relay. We derive closed-form expression for the outage probability using the probability density function and moment generating function of the signal-to-noise ratio of the relayed signal at the destination node. Results show that with the
\(n\)
th best relay the diversity order is equal to
\((m-n+2)\)
where
\(m\)
is the number of relays. Simulation results are also given to verify the analytical results.