01.10.2013 | Ausgabe 4/2013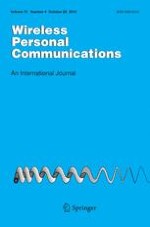 Outage Probability and Ergodic Capacity Analysis for Two-Way Relaying System with Different Relay Selection Protocols
Zeitschrift:
Autoren:

Hui Zhi, Longxiang Yang, Hongbo Zhu
Abstract
The outage probability and ergodic capacity analysis for decode-and-forward two-way relaying system is investigated in this paper. First, the exact expressions (or bounds) of outage probability, ergodic capacity and average bidirectional ergodic capacity (ABEC) for max–min relay selection, random relay selection and direct transmission protocols are derived through theoretic analysis, and performance comparisons among different relay selection protocols are developed. Then a novel maximum average bidirectional mutual information (MABM) relay selection protocol is proposed and analyzed. Simulation results demonstrate that the derived analytical results fit well with Monte-Carlo simulations. The proposed MABM protocol can always achieve larger ABEC than other protocols while keeping low outage probability, and the MABM and max–min protocols in this paper can always achieve better performance than the max–min selection and max-sum selection in Krikidis (IEEE Trans Veh Technol 59(9):4620–4628,
2010
). In addition, outage probability, ergodic capacity and ABEC performance of the proposed protocol become worse while distance becomes larger.