21.11.2018 | Original Paper | Ausgabe 5/2020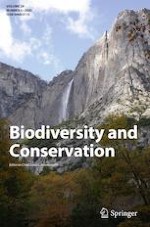 Overcoming the worst of both worlds: integrating climate change and habitat loss into spatial conservation planning of genetic diversity in the Brazilian Cerrado
Zeitschrift:
Autoren:

José Alexandre Felizola Diniz-Filho, Ana Clara de Oliveira Ferraz Barbosa, Lázaro José Chaves, Kelly da Silva e Souza, Ricardo Dobrovolski, Ludmila Rattis, Levi Carina Terribile, Matheus Souza Lima-Ribeiro, Guilherme de Oliveira, Fernanda Thiesen Brum, Rafael Loyola, Mariana Pires de Campos Telles
Wichtige Hinweise
Communicated by Guarino Rinaldi Colli.
Electronic supplementary material
Abstract
Conservation strategies aiming to safeguard species genetic diversity in the Cerrado are urgent. The biome is an agriculture frontier and lost at least 50% of its natural capital since the early 1950s, with the highest rate of vegetation clearing among all Brazilian biomes. Here we match information on geographic range shifts in response to climate changes and habitat loss to define conservation priorities for species genetic diversity using
Eugenia dysenterica
, a widely distributed tree across the Brazilian Cerrado. We found a set of 27 optimal solutions in which a minimum of 12 out of 23 populations are necessary to represent all 208 alleles of the species. Environmental suitability predicted for 2050 was higher for populations in the southern region of the Cerrado, whereas the proportion of natural remnants around populations expected for 2030 was lower in this same region. Thus, it seems to be more conservative to adopt "in situ" strategies in the northwestern part of the species range to hold more genetic diversity in areas harboring high numbers of natural remnants, despite the likely reduction in climatic suitability. On the other hand, in the southern and southeastern region of the range, despite more stability from a climatic point of view, there was a serious constraint given the high levels of human occupation; in this case, "ex situ" strategies might be a better option for the species. Our results and proposed priorities enable different strategies for making an operational approach for conservation of genetic diversity. Adopting different prioritization strategies for stable and unstable regions (both in climatic suitability and natural remnants) in the future would allow, in principle, to avoid "the worst of both worlds" to achieve an efficient conservation program for the species.