2019 | OriginalPaper | Buchkapitel
Overflying Justiciability? Drones and Avoidance Doctrines Before National Courts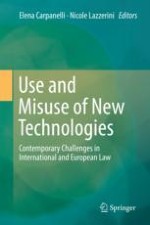 Erstes Kapitel lesen
Autor: Luca Gervasoni
Abstract
In recent years much research has been dedicated to targeted killing, an issue often considered in relation to the deployment of new technologies such as unmanned aerial vehicles.
Quite surprisingly, however, not much attention has been devoted to access to justice for victims of drone strikes. This matter is rapidly gaining momentum as a considerable number of cases have been brought to court by victims of killing by drone in these last years, and many more such cases should be expected to ensue in the near future.
Against this background, this article will show that the great majority of domestic suits related to targeted killing have been dismissed on procedural grounds before ever reaching an adjudication on their merits, mainly as a result of domestic courts' reliance on non-justiciability theories (or avoidance doctrines). The article will thus unveil that, due to the particular nature and features of drone strikes, the application of avoidance doctrines to cases ensuing from unlawful killing by unmanned aerial vehicles has the effect of leaving victims' demands for justice absolutely frustrated, thus effectively placing them outside the protection of the law. So that application of traditional theories on justiciability to new lethal practices ensuing from previously unforeseeable technical evolutions makes it possible for States to "kill in large numbers and to the sound of trumpets", while segregating victims to "die in the silence of courts".
Being this the case, the article will look into the specificity of drone strikes from an opposite angle, trying to turn the peculiarities of this weapon platform into a chance to pursue accountability and reparation throughout multiple proceedings in alternative jurisdictions.