01.12.2016 | Review | Ausgabe 1/2016 Open Access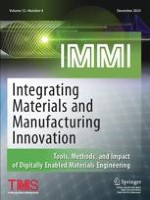 Overview of Additive Manufacturing Informatics: "A Digital Thread"
Zeitschrift:
Autoren:

Deborah Mies, Will Marsden, Stephen Warde
Wichtige Hinweise
Competing interests
The authors are employees of Granta Design, Ltd.
Authors' contributions
DM wrote the main portions of the manuscript. SW and WM provided the critical review, feedback, and complimentary perspectives. All authors have read and approved the final manuscript.
Abstract
Additive Manufacturing (AM) has huge promise for manufacturing parts with improved cost and performance compared to traditional subtractive manufacturing methods. But scale-up from prototyping operations and optimization of parts across this range of processes entails understanding complex and varied interactions between part design, materials, production processes, and part performance. To this end, significant investments are being made in R&D programs to manufacture high-performance AM parts, researching new designs and new materials. These programs generate huge amounts of data on materials, process parameters, tests, and part qualification. In parallel, many large companies are responding to competitive pressures by "digitizing" their supply chain, manufacturing processes, parts, and in-service data. Data is captured throughout the product lifecycle and analyzed for opportunities to drive down tooling costs and lead times and improve efficiencies and innovation. The phrase, "Digital Thread," is commonly used to describe this process. AM represents an ideal opportunity to apply Digital Thread (DT) technology, since 3D printing relies on new digitally - driven technologies. Success requires that data be made available to integrated discovery, data mining, and physics-based simulation tools, enabling timely evaluation of manufactured parts and ensuring a fluid response to the in-process variability that can affect part quality. This can make the difference between parts that can be reliably reproduced to the level of required fidelity (and, hence, are certifiable), as well as reducing costs of physical testing, repair, and in-service liability. Collectively, we call this AM Informatics—the science of managing AM data across its lifecycle with full maintenance of the complex relationship between the part geometry, material, and individual processes used to create the final part. This report provides an overview of the current state of AM Informatics—how data from AM is being captured and utilized to enhance supply chain and production processes, shortening development times and enhancing the reproducibility and quality of part production in support of qualification objectives.