10.09.2019 | Technical Article | Ausgabe 5/2019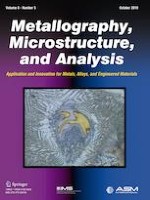 Oxidation Behavior of Thermally Grown Oxide on Aluminized Coating Irradiated by High-Current Pulsed Electron Beam
Zeitschrift:
Autoren:

Zhi-Yong Han, Wen-Xin Shi, Zhe Wang, Kun-Ying Ding, Tao-tao Cheng, Yan-yan Ren
Wichtige Hinweise
Publisher's Note
Springer Nature remains neutral with regard to jurisdictional claims in published maps and institutional affiliations.
Abstract
The oxidation of CoCrAlY coatings, which are prepared by atmospheric plasma spray, additionally aluminized by electric beam vacuum deposition, and finally modified by high-current pulsed electron beam irradiation, is investigated. Meanwhile, the isothermal oxidation performance of untreated coating at 1050 °C is compared to the modified coating. The surface microstructure, cross-sectional microstructure, and phase transformation of the coatings are characterized by means of scanning electron microscope and energy-dispersive spectrometry (EDS). Results reveal that the thermally grown oxide (TGO) in untreated coatings is composed of two distinct layers: a large amount of mixed gray oxides in the outer layer and a thin Al2O3 film in the inner layer. In comparison, modified coatings exhibit single TGO layer and homogeneous TGO composition. The EDS line scanning result shows that TGO is primarily comprised of α-Al2O3. These results display that the modified coatings have a much higher oxidation resistance.