01.01.2015 | Ausgabe 1/2015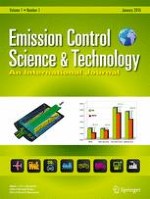 Oxidation of Soot (Printex® U) in Particulate Filters Operated on Gasoline Engines
Zeitschrift:
Autoren:

Thorsten Boger, Dominik Rose, Per Nicolin, N. Gunasekaran, Thomas Glasson
Abstract
Gasoline particulate filters are one potential technology path to address the EU6 particulate number regulation for gasoline-powered vehicles. While the passive and active soot regeneration with diesel particulate filters is well understood, almost no data exist under gasoline engine conditions where there is essentially no NO
2
and O
2
available for soot oxidation under normal stoichiometric
λ
 = 1 operation. The aim of this paper is to provide information and data to address these gasoline engine-specific conditions. The operation and conditions for a particulate filter in a gasoline direct injection engine environment are discussed utilizing results obtained in a broad range of laboratory and vehicle experiments. Since the accumulation of sufficient soot mass quantities proofed to be challenging on a vehicle, the present study is using Printex® U as surrogate soot, representing the least reactive fraction of particulate matter originating from the combustion. Conditions which enable the oxidation of soot under normal driving operation are identified. Conditions enabling passive soot oxidation in a gasoline engine exhaust system are proposed as well as potential worst case conditions.