2018 | Supplement | Buchkapitel
Oxidation of Wood Species by Sodium Metaperiodate and Impregnation with Phenyl Hydrazine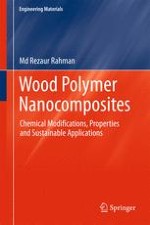 Erstes Kapitel lesen
Autor: M. R. Rahman
Abstract
A large variety of tropical wood species has been found in Malaysia, especially the Borneo state of Sarawak. The nominated fresh wood species, namely
Artocarpus Elasticus
,
Artocarpus Rigidus
,
Xylopia
spp.,
Koompassia Malaccensis,
and
Eugenia
spp. were chemically modified with sodium metaperiodate for manufacturing them into plasticized wood (PW). Prepared plasticized wood models were analysed using Fourier Transform Infrared Spectroscopy, Scanning Electron Microscopy and mechanical testing [modulus of elasticity (MOE), modulus of rupture (MOR), static Young's modulus (
E
s
)], decay resistance and water absorption. MOE and MOR were calculated using the compression parallel to grain test and the natural laboratory decay test, respectively. PW showed the higher MOE, MOR,
E
s
and lower water content compared to raw one whereas modified wood showed higher resistance to decay exposure.
Eugenia
spp. had highest resistance compared to the others.