2004 | OriginalPaper | Buchkapitel
Ozone Profile Retrieval from Broadband Nadir UV/Visible Satellite Spectra: How Accurate is the Tropospheric Profile?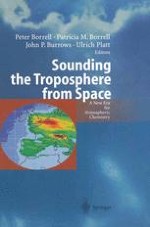 Erstes Kapitel lesen
Autoren: Mark Weber, Klaus Bramstedt, Lok Lamsal, Sandip Dhomse, Arief Darmawan, Kai Eichmann, Astrid Bracher, Silvia Tellmann, Vladimir Rozanov, John Burrows
Verlag: Springer Berlin Heidelberg
Enthalten in: Professional Book Archive
With the new series of nadir viewing UV/visible satellite instruments SCIAMACHY/ENVISAT, GOME-2 and GOME-3 aboard METOP-1 and 2, succeeding the current and extremely successful GOME/ERS-2 mission, continuation of global ozone profile measurements in the next two decades will be possible. In the continuous UV/visible spectral range of these instruments (240–600 nm) the absorption of ozone and the multiple scattering cross-section varies several orders of magnitude, which makes it possible to derive, in addition to column abundance, height resolved ozone distribution from the respective nadir spectra using appropriate optimal estimation inversion schemes (Hoogen et al. 1999a, 1999b). However, the ozone information content in the UV/visible spectrum is dominated by lower stratospheric ozone making the tropospheric retrieval a quite challenging task. This project aims at improving the determination of tropospheric ozone by adding additional geophysical information contained in the spectra into the profile retrieval. In order to distinguish the profile retrieval from the total column retrieval, the advanced optimal estimation scheme is referred to as the full retrieval method (FURM).