10.07.2021 | Original Research Article | Ausgabe 10/2021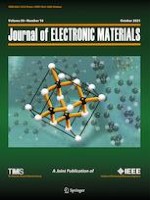 p

-

i

-

n

Structured Semitransparent Perovskite Solar Cells with Solution-Processed Electron Transport Layer
Zeitschrift:
Autoren:

Asim Guchhait, Goutam Kumar Dalapati, Prashant Sonar, Saianand Gopalan, Firdaus Bin Suhaimi, Tapas Das, V. G. Vasavi Dutt, Nimai Mishra, Chandreswar Mahata, Avishek Kumar, Seeram Ramakrishna
Wichtige Hinweise
Supplementary Information
Publisher's Note
Springer Nature remains neutral with regard to jurisdictional claims in published maps and institutional affiliations.
Abstract
p
-
i
-
n
structured semitransparent perovskite solar cells have already been established as promising energy harvesting devices for building-integrated photovoltaics and flexible solar cells due to high transparency and low-cost fabrication. In this study, solution based
p
-
i
-
n
structured semitransparent perovskite solar cells (PSCs) have been developed using thin silver (Ag), zinc oxide (ZnO), and aluminium (Al)-doped ZnO nanoparticles (AZO) as buffer layers in addition to PCBM as an electron transport layer (ETL). The thickness of the ZnO and AZO layers are around ~100 nm. In the case of the thin Ag layer, poor interfacial band alignment and less transparency yield device performance with an inferior PCE of 2.53% when illuminated from the top electrode side. On the contrary, Al-doped ZnO possesses excellent optoelectronic performance as a buffer layer for their better electronic conductivity and interfacial band alignment and yield a photovoltaic device characteristic with a power conversion efficiency (PCE) of 5.87% when illuminated from the top electrode side, whereas the standard device with a metal electrode shows a PCE of 6.4%. The semitransparent device also has an average transparency of 21.8% in the visible region.
Graphic Abstract
Inverted structure semitransparent perovskite solar cells have been developed for flexible and building integrated photovoltaic (BIPV) applications. Solution processed perovskite solar cells with a power conversation efficiency of 5.87% and visible transmittance of 21.8% make an excellent candidate for BIPV and smart windows. Aluminum-doped zinc oxide (AZO) nanoparticles are found very effective buffer layer for the sputter grown top electrode over PCBM layer to reduce the interface damage and enhanced the overall photovoltaic performance.
×