28.01.2016 | Ausgabe 4/2017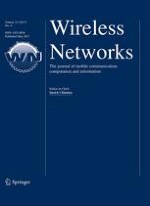 Pair-wise key agreement and hop-by-hop authentication protocol for MANET
Zeitschrift:
Autoren:

K. Shanthi, D. Murugan
Abstract
In MANET, the most important issues are authentication of data packet in the network. Due to the hostile environment, security is major concern while data transmission. In order to overcome this issue, in this paper, we propose hop by hop group key agreement protocol where each node generates pairwise key for encryption of data. The session key is generated only between the nodes which is carrying the data packet for transmission. The key exchange can be performed between two nodes before data transmission. Ni constructs Lagrange interpolating polynomial with degree
n
− 1. Each Ni broadcasts the generated polynomial. After that, group key agreement protocol is used to provide complete authentication for those nodes. Simulation result show that the proposed algorithm is efficient as it minimizes bandwidth usage, delay, packet drop, and overhead, as well as fulfills all primary security concern, with improved delivery ratio and throughput.