2022 | OriginalPaper | Buchkapitel
11. Palaeontology and Evolution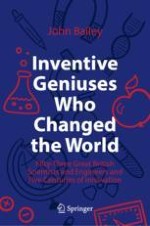 Erstes Kapitel lesen
Autor: John Bailey
Abstract
Mary Anning grew up in poverty; was self-taught and lived at a time when most people believed in Creationism—a conviction that nature is static and unchanging, and species are immutable. She had a life-time passion for fossil hunting, and by reading and application, she became a world expert in her field, arriving at a level of knowledge exceeding those formally educated in the discipline.
Fossils provide information about the nature of species that existed at specific times in the Earth's history. The spectacular fossils she unearthed shook the scientific world into looking for a new approach to explain why some creatures are extinct, whilst others took their place. She lived on the Jurassic coast, now a World Heritage site and some of the fossils she found are housed in the Natural History Museum, in London.
In 1831, Charles Darwin was a budding naturalist given the opportunity to join a 5-year expedition to see ecologically diverse regions in the Southern Hemisphere. His epoch-making voyage, on HMS Beagle, had a monumental effect on Darwin's view of natural history. He logged similarities amongst species across the world, as well as variations based on specific location and habitat. For instance, on each of the Galápagos islands, he found a variety of unique species. He found finches with beaks that differed from island to island. The contribution that finches made to Darwin's future thinking may have been exaggerated but they became an emblem of evolution.
Wherever he went, he collected samples of flora, fauna, and fossils. He sent pertinent samples and scientific notes to a colleague in England who acted as a conduit to the scientific community. As a result, when he returned home, he had become a respected, well-known scientist.
As Newton and Clerk Maxwell had done with physics, Darwin developed a grand, unifying theory of biology. His revolutionary new thesis about the origin of living things was contrary to the popular view of divine intervention and would change the course of scientific thought. It led Darwin to believe that contemporary species have transmuted (evolved) from common ancestors. Since life on Earth began, the changing environment has put pressure on individual organisms to adapt or face extinction. Those individuals that adapted favourably to the local conditions preferentially survived and passed their favourable traits to their offspring. The mechanism by which each slight variation, if useful, is perpetuated, is called natural selection. This is one reason why evolution occurs, mainly through a series of short steps.
Survival of the fittest does not mean the strongest, nor the most intelligent, but the one that is most adaptable to change. Darwin did not say that humans are descended from apes, rather he said that chimpanzees, apes, and humans may have a common ancestry because of their many similarities.
Humans have managed to occupy almost every ecological niche. We now look at ourselves and question how we relate to all creatures and how our lifestyles impinge on theirs.
Homo sapiens
may be part of the natural world but has evolved to a point where it can either destroy life or preserve it with all its splendour. We must act decisively to preserve the healthy condition of the world's biosphere and atmosphere. By protecting eco-systems, we preserve biodiversity.