Erschienen in: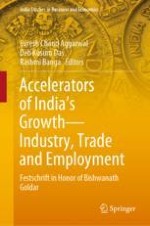 2020 | OriginalPaper | Buchkapitel
Paradigm Changes in Technology and Employment
Abstract
The paper starts with the Schumpeterian concept of creative destruction resulting in turmoil consequent to paradigm shifts in technology. Unlike trajectory changes in technology, paradigm changes are not incremental changes and they could destroy and replace the existing technologies and products. The turmoil is because workers trained in one technological paradigm cannot easily shift to new technologies. New industries would be created but at the same time, several older industries would face destruction. The paper argues that while employment in the Sunset industries would decline the overall employment in the economy need not decline. There would be gainers and victims. Section
2
of the paper discusses the likely gainers and victims of the current technological revolution, namely, digital and genomics revolution. The paper shows that the middle-income group would be more affected than the rest. It argues that computers cannot perform abstract tasks and professionals and persons performing personal services will not be adversely affected. Furthermore, currently collaborative efforts are assuming importance and they need human interactions and cannot be handled by machines. Section
3
discusses the rapid increase in the introduction of robots in manufacturing in the Asian countries led by China. Currently, they are mainly in a few sectors like automobiles, plastics and electronic products. In the future, they are also likely to play a role in garments and textiles. In this context, if one uses 'occupational' approach one gets on set of results while if one uses the 'task based' approach one gets a more balanced picture. Robots cannot be introduced in all the tasks in these few sectors. There are only a limited number of tasks where robots could be introduced and they turn out to be tasks that are inhospitable for human labour and that require precision. Here again gains outweigh the losses. However, to effectively participate and benefit from the knowledge revolution it is important to concentrate on improving the skill content of the population and spend heavily on education and retraining of the workforce. The ongoing digital and genomics revolutions are knowledge based and knowledge intensive wherein human capital plays a crucial role. Technology and knowledge transfer through foreign direct investments will work only in the presence of highly skilled workforce. In the case of India, the states that enjoyed better human capital in terms of education and health enjoyed higher growth rates of employment and productivity. States that neglected human capital did not experience employment growth. They are the victims of the knowledge revolution and to avoid further decline and the consequent adverse consequences they should go in for a crash programme aimed at human resource development. These issues are discussed in Sect.
4
Information Technology and digitalization facilitates networking and encourages global manufacturing by reducing transaction costs. In the globalized world, different segments in the production chain could be split and undertaken in different countries based on efficiency of production. This could be achieved either through licensing or FDI depending on the transaction costs involved in technology transfers and production transfers. This practice has now become a political and electoral issue in the developed countries. Outward FDI is accused of creating employment in other countries and declining employment in the home country. By and large, empirical studies do not support the concerns of these policymakers of developed countries about the adverse impact of outward FDI to other countries and in particular to low-wage countries. Section
5
examines these issues. Section
6
is devoted to the shape of the things to come. This section is based on the vision of the scientists as expressed in the science journal
Nature.
By and large, scientists are more positive about the ongoing digital revolution and argue that unemployment fears are exaggerated. Their main argument is that current research and international business involve collaborations across countries and face-to-face interaction in the work units. Participation in the global production network would involve frequent interactions and collaborations by different teams. Machines are not good in carrying out processes where collaborations and interactions are important. However, workforce needs to be retrained. In the future world, people need to collaborate and need to know each other better. Standalone solo workers would disappear. Section
7
deals with opportunities for India and discusses likely advantages India would have when the quantum computers are introduced in future, opening opportunities for participation in hardware and software. It also analyses opportunities that could emerge in solar energy in particular when products like quantum dots and paper-thin solar cells are introduced in the future.