16.05.2021 | Energy materials | Ausgabe 23/2021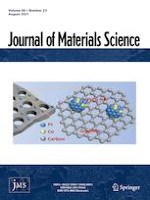 Paraffin-filled boron carbide/polyvinyl alcohol scaffolds with enhanced thermal energy storage and form stability
Zeitschrift:
Autoren:

Chunyan Ma, Chun Wei, Junwei Bai, Jianguo Deng
Wichtige Hinweise
Handling Editor: Dale Huber.
Publisher's Note
Springer Nature remains neutral with regard to jurisdictional claims in published maps and institutional affiliations.
Abstract
As a kind of inorganic filler, boron carbide powder-toughened polymer matrix has been widely studied. However, the layered boron carbide scaffold composites with large area orientation are rarely reported. A series of hierarchically aligned scaffolds of boron carbide and polyvinyl alcohol (B4C/PVA) with different B4C mass fractions are prepared by a bidirectional freeze-casting method. These ordered, lamellar B4C/PVA scaffolds allow paraffin wax to penetrate rapidly to form composite phase change materials (CPCMs). The molten paraffin trapped in this structure remains stable and has a little amount of leakage because of capillary effect. And the leakage rate is 1.1 wt% and 1.6 wt% after 25 cycles at the temperature interval of 25–80 °C and 25–90 °C, respectively. The highest retention of latent heat is up to 90% for specimen of 1%-a. And the thermal conductivity of CPCMs is 0.33 W m−1 K−1 for 8%-e.
Graphical abstract
Hierarchically aligned B4C/PVA scaffolds fabricated by bidirectional freeze casting can improve structure stability of PCMs and hamper the leakage of paraffin.
×