2006 | OriginalPaper | Buchkapitel
Parallel Computation of 3D Problems of the Dynamics of Elastic-Plastic Granular Material under Small Strains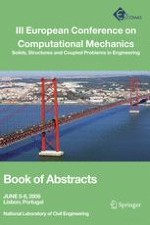 Erstes Kapitel lesen
Autoren: Vladimir M. Sadovskii, Oxana V. Sadovskaya
Verlag: Springer Netherlands
A process of waves propagation in elastic-plastic granular material under small strains is described on the basis of a new rheological model taking into account different resistance of the material with respect to tension and compression [
1
]. This model leads to the system of nonlinear partial differential equations of non-classical type which has an evident structure for numerical realization. Parallel decomposition of the used shock-capturing numerical method [
2
] is founded on the space-variable decomposition procedure. The proposed algorithm is accomplished as a program system for supercomputers with parallel architecture by means of SPMD (Single Program - Multiple Data) technology in Fortran-90 with the use of MPI (Massage Passing Interface) library. Various variants of 1D, 2D and 3D division of the spatial computational domain between the computational nodes are used. The program system allows to simulate a propagation of elastic-plastic waves generated by mechanical impacts in a body, aggregated of an arbitrary number of heterogeneous blocks with curvilinear boundaries.
Stress field in different time moments
The exact one-dimensional solutions with plane Stress field in different time moments shock waves are used for testing. Some problems of the waves refraction on the interior surfaces between blocks of granular materials with different mechanical properties are solved. By means of the numerical experiments it is shown that the plane fronts of two waves, bending due to inhomogeneous loosening, can be re- flected with the formation of transverse cumulative splash. The curved fronts of shock waves for different time moments and the cumulative splash (a typical zone of the compressive stresses, moving bottom-up) are represented in the Figure.
This work was supported by the grant of the Russian Foundation for Basic Research no. 04-01-00267, the Complex Program of the Presidium of RAS no. 14 "Fundamental Problems of Informatics and Informational Technologies" and the Russian Science Support Foundation.