01.01.2013 | LCA FOR ENERGY SYSTEMS | Ausgabe 1/2013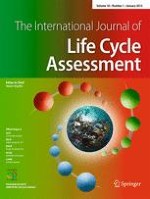 Parameterized tool for site specific LCAs of wind energy converters
Zeitschrift:
Autor:

Till Zimmermann
Wichtige Hinweise
Responsible editor: Berlan Rodriguez Perez
Abstract
Purpose
The purpose of this project was to provide a parameterized LCA tool that allows performing site specific life cycle assessments for different wind energy converter types by varying a limited number of relevant parameters. Hereby, it addresses the limited transferability of WEC LCA results to other sites as well as the increasing demand for such data.
Methods
Basis of the work was an extensive primary data collection at the respective production facilities and other relevant stakeholders like site assessment, service etc. Most of the required data was available at first hand and was completed with data from literature and LCA databases. Based on this data, a complex parameterized material flow model has been built and different product variants have been pre-defined within the model, including relevant production processes and upstream. The pre-definition of these product variants allows reducing the minimum number of parameters that need to be configured for site specific LCAs from a total of over 330 to just nine parameters.
Results and conclusions
In the future, choosing the right type of technology for specific sites will become more important; especially in the face of increasing land use conflicts and increasing competition between renewable energy technologies. Site and technology specific LCAs prove to be a valuable tool for this assessment. Tools like the presented significantly reduce the effort required for performing these LCAs. Additionally, they can be used for various other purposes like environmental assessments of different repowering scenarios and eco design.