2006 | OriginalPaper | Buchkapitel
Parameters identification of a nonlinear viscoelastic model via an energy error functional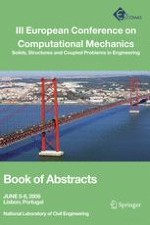 Erstes Kapitel lesen
Autoren: Khaled Hadj Sassi, Stéphane Andrieux
Verlag: Springer Netherlands
The purpose of this work is to derive and use a variational method to identify the material parameters of a model of creep for the concrete of the containment of nuclear power plants from extensometric experimental measurements. The three-dimensional nonlinear viscoelastic selected model is recast into the framework of generalized standard materials, and highlights two distinct evolutions: reversible evolution and irreversible evolution.
An identification of the parameters is designed, grounded on the minimization of an energy like error functional, extending preceding approaches [
1
][
2
][
3
]. The energy error incorporates simultaneously a free-energy error and a dissipation error. This original feature, with respect with other errors in constitutive equations that are sometimes used for parameter identification, is obtained by using general convexity properties of the incremental total energy that can be derived for the evolution problem when using a total implicit time discretization scheme for the standard generalized materials. Control, via this error functional, of the free energy and the dissipation makes possible to obtain a better behavior of the functional when the material parameters to be identified concern both the reversible and the irreversible parts of the constitutive equation.
The resolution of the optimization problem requires the efficient and accurate computation of the gradient of the cost function with respect to the parameters. For that purpose, the adjoint state approach is employed. This method, contrary to direct methods and finite differences, is independent of the number of parameters to identify and its computation costs are proportional to the number of cost functions only. Here the formulation being based of the minimization of the error in total constitutive equation between two fields of state variable, each one meeting one of the overspecified boundary conditions on the extensometers, the resolution of four evolution problems is needed for each iteration (2 direct problems and 2 (backward) adjoint problems).
Some numerical results are shown, using the finite elements code Code-Aster. In these simulations, one mainly focuses on determining the seven parameters of rigidity and viscosity of the model of creep of the concrete in an axisymmetric containment, where three different homogeneous zones have been defined, taking into account the possible heterogeneity of the building.