01.02.2020 | Ausgabe 2/2020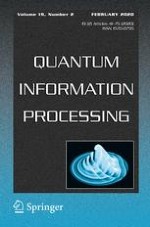 Pareto-optimal solution for the quantum battle of the sexes
Zeitschrift:
Autoren:

A. Consuelo-Leal, A. G. Araujo-Ferreira, E. Lucas-Oliveira, T. J. Bonagamba, R. Auccaise
Wichtige Hinweise
Publisher's Note
Springer Nature remains neutral with regard to jurisdictional claims in published maps and institutional affiliations.
Abstract
Quantum games have gained much popularity in the last two decades. Many of these quantum games are a redefinition of iconic classical games to fit the quantum world, and they gain many different properties and solutions in this different view. In this letter, we attempt to find a solution to an asymmetric quantum game which still troubles quantum game researchers, the quantum battle of the sexes. To achieve that, we perform an analysis using the Eisert–Wilkens–Lewenstein protocol for this asymmetric game. The protocol highlights two solutions for the game, which solve the dilemma and satisfy the pareto-optimal definition, unlike previous reports that rely on Nash equilibrium. We perform an experimental implementation using the NMR technique in a two-qubit system. Our results eliminate dilemmas on the quantum battle of the sexes and provide us with arguments to elucidate that the Eisert–Wilkens–Lewenstein protocol is not restricted to symmetric games at the quantum regime.