2012 | OriginalPaper | Buchkapitel
Parking Assist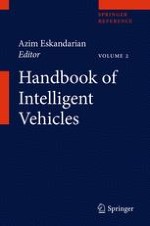 Erstes Kapitel lesen
Autoren: Michael Seiter, Dr. Hans-Jörg Mathony, Peter Knoll
Verlag: Springer London
Abstract
On virtually all motor vehicles, the bodies have been designed and developed in such a way as to achieve the lowest possible drag coefficient values in order to reduce fuel consumption. This trend has resulted in a gentle wedge shape which greatly restricts the driver's view when maneuvering. Obstacles can only be poorly discerned – if at all.
To overcome these problems, ultrasonic-based parking aids were introduced in the European market in the early 1990s. These systems monitor the rear and the front of the vehicle, and warn the driver if there is an obstacle which can cause a collision. Recently, new functions like semiautomatic Parking Assistance have been realized based on the same sensor technology. Such a system automatically steers the vehicle into the parking space while the driver controls the longitudinal movement of his car.
In parallel, cameras to monitor the rear of the vehicle have first been introduced on the Japanese market together with central information systems allowing presenting its picture in the center console area. Due to the availability of powerful image processing units, recently multi-camera systems have been launched. These systems fuse the data of four cameras, for example, to create a 360° top-view picture showing the surroundings of the vehicle.
Further sensor improvement and system development of both ultrasonic and camera technology as well as sensor data fusion of different technologies will allow new parking and maneuvering functions with increasing automation grade.
The chapter starts with basics of ultrasonic and camera technology. Furthermore, it emphasizes on driver assistance systems for parking and for slow maneuvers based on these sensor technologies.