2006 | OriginalPaper | Buchkapitel
Partially saturated porous medium vibration induced by an impulsional load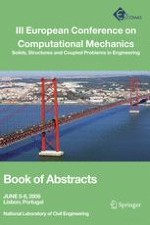 Erstes Kapitel lesen
Autoren: A. Mesgouez, G. Lefeuve-Mesgouez, A. Chambarel
Verlag: Springer Netherlands
The Laboratory
Climate, Soil and Environment
of the University of Avignon and the National Institute for Agricultural Research in France has worked for many years on wave propagation in porous soils: the main topics concern the study of transient electromagnetic and poroviscoelastic waves in realistic grounds. Numerical tools have been developed to simulate the behavior of such a complex medium.
Concerning the study of mechanical wave propagation, the numerical approach we propose here deals with the spatial macroscopic Biot's modelling: the medium is considered to be a biphasic continuum composed of a porous deformable viscoelastic solid skeleton and a fluid component corresponding to the viscous fluid which partially or totally saturates the porous space. In such a medium, three body waves exist: the P1 and P2 compressional waves and the S shear wave. Moreover, in the case of a semi-infinite medium, a surface wave also exists denoted as the Rayleigh R wave.
In the specific case of transient regimes, numerical results have been presented by several authors, Zienkiewicz and Shiomi [
1
] or Zhao [
2
] for instance. These works are restricted to specific configurations of the porous medium; for instance, most of the articles do not take into account all the mechanical couplings of the Biot theory or concern completely saturated grounds. Results using a Finite Element formulation and taking into consideration the whole Biot theory in the case of a saturated medium has been presented by the authors, Mesgouez et al. [
3
]. A C++ Object Oriented Programming for the Finite Element code has been developed to obtain the solid and fluid horizontal and vertical displacements for a point located on the surface of the semi-infinite medium or in depth.
The authors propose here an extension of their work in the case of a partially saturated soil. The in- fluence of the third phase, a gas one in general, on the solid and fluid displacements and velocities are analyzed and developed in this communication. Particularly, we note the strong dependence of the saturation on the celerity of the second compressional wave, even with a low proportion of gas amount. Moreover, for soft grounds, the saturation has also a notable influence on the P1 wave celerity.