2020 | OriginalPaper | Buchkapitel
Particle Interactions in Silica Systems in Presence of Superplasticizer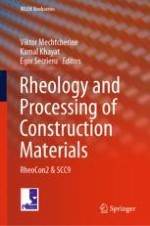 Erstes Kapitel lesen
Autoren: Simon Becker, Zichen Lu, Sarah Leinitz, Wolfram Schmidt, Dietmar Stephan, Regine von Klitzing
Abstract
The flowability of cement paste is of great importance in today's construction industry and is influenced by additives such as superplasticizers (SP). One type of SPs are polycarboxylate ether type SPs. These additives electrostatically bind with the negatively charged carboxylic groups at the backbone to the positively charged clinker phases.
To model positively charged clinker phases with adsorbed SP, silicon wafers are pre-coated with cationic polyethylenimine (PEI) and SP is adsorbed onto the coated surface (Si/PEI/SP). Two different polycarboxylate ether type (PCE) SP are compared – one for ready-mix concrete and one for precast concrete. In this preliminary study the interaction forces between Si/PEI/SP surface and a silica microsphere (colloidal probe) are investigated under mild physico-chemical conditions (pH ~6, ion concentration <10−5 M) using Colloidal Probe Atomic Force Microscopy (CP-AFM).
The interaction force between the model surfaces is attractive for low concentration of SP. The force changes from attractive to repulsive by increasing amount of SP. The force upon approach reveals a biexponential behavior. The exponential decay at large and short surface separations are attributed to electrostatic and steric interactions, respectively. The steric forces of the SP for ready-mix concrete show a steeper onset than the SP for precast concrete.
The quantification of these interaction forces will be compared to rheological measurements of similar systems. Furthermore, the parameters will be changed to better approach the conditions in real systems, i.e. higher pH and ionic strength. This helps to understand how the forces on the nanoscale influence the macroscopic rheology.