2018 | OriginalPaper | Buchkapitel
4. Particle Sedimentation Behaviors in a Density Gradient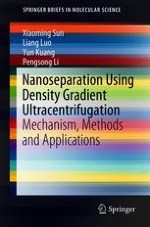 Erstes Kapitel lesen
Autor: Pengsong Li
Verlag: Springer Singapore
Abstract
Density gradient centrifugation, as an efficient separation method, is widely used in the purification of nanomaterials including zero, one-, and two-dimensional nanomaterials, such as FeCo@C nanoparticles, gold nanoparticles, gold nanobar, graphene, carbon nanotubes, hydrotalcite, zeolite nanometer sheet (the examples can be found in Chap.
5
). Each system needs separation parameter optimization, which comes from tremendous research experiments. When particles are put on the top of density gradient medium, they will have a definite settling rate under centrifugal force (
F
c
) [
1
], which is influenced by their net density, size, and shape. In a sufficiently intense centrifugal field, the particle motion held quietly free from gravity and vibration [
2
]. This is the principle of the density gradient ultracentrifuge. Based on the above principle, we discussed the particle sedimentation behaviors and built the kinetic equation in a density gradient media. The kinetic equation could apply to zero, one-, and two-dimensional nanomaterials, within its variation form accordingly. We found that the separation parameters could be optimized based on the kinetic equation. A MATLAB program was further developed to simulate and optimize the separation parameters. The calculated best parameters could be deployed in practice to separate given nanoparticles successfully.