2002 | OriginalPaper | Buchkapitel
Partitioning of Heavy Metals in Sequential Extraction Fractions in Soils Developed over the Historical "Sv. Jakob" Silver Mine, Mount Medvednica, Croatia.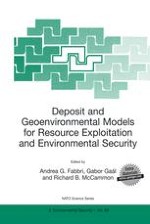 Erstes Kapitel lesen
Autoren: M. Čović, G. Durn, N. Tadej, S. Miko
Verlag: Springer Netherlands
Enthalten in: Professional Book Archive
Jetzt einloggen
Phase-selective sequential extraction techniques have been used to identify the residence sites of metals in soils developed over a historical silver-mining site. The operationally defined phases selected for extraction have been assigned to the following five fractions: adsorbed, bound to carbonates, bound to Fe-Mn oxides, bound to organic matter and residual. The following reagents had been used: NH4-aceate, Na-acetate, hydroxylamine hydrochloride, hydrogen peroxide + nitric acid, mixed acids (HCI-HNO3-HF), respectively. The solutions were analysed by atomic absorption flame photometry (Pb and Cd) and inductively coupled plasma atomic absorption photometry (other analysed elements). Mineralogical analysis was performed to detect Zn-Pb-bearing phases and cerussite was the only phase detected. Other mineral phases detected by XRD in the soil samples were as follows: quartz, dolomite, micas, plagioclase, K-feldspar, goethite, hydrargillite, kaolinite, chlorite, and organic matter. Assuming that mobility and biological availability are related to the solubility of the geochemical forms of the metals and the latter decreases in the order of extraction, the apparent mobility and potential metal bio-availability for these highly contaminated soils is: Cd> Pb> Zn> Cu> Ni. The distribution of Pb, Zn and Mn in mineral phases is similar in samples with both high and baseline trace-metal values. Cu, Fe, and Ni exhibit different distribution patterns in the two types of samples.