01.10.2011 | Ausgabe 2/2011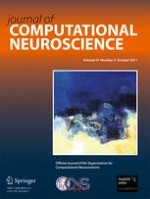 Passive and active shaping of unitary responses from associational/commissural and perforant path synapses in hippocampal CA3 pyramidal cells
Zeitschrift:
Autoren:

Tamara Perez-Rosello, John L. Baker, Michele Ferrante, Satish Iyengar, Giorgio A. Ascoli, Germán Barrionuevo
Wichtige Hinweise
Action Editor: Alain Destexhe
Electronic supplementary material
The online version of this article (doi:
10.​1007/​s10827-010-0303-y
) contains supplementary material, which is available to authorized users.
Author contributions
All of the authors have contributed to this study. GAA and GB conceived the conceptual framework of the study. TPR, JLB, MF, GAA, and GB conceived and designed the experiments. Experiments were performed by TPR at University of Pittsburgh. JLB, MF, TPR, IS, GAA, GB analyzed and interpreted the data. TPR, JLB, MF, IS, GAA, and GB drafted the article.
Abstract
Although associational/commissural (A/C) and perforant path (PP) inputs to CA3b pyramidal cells play a central role in hippocampal mnemonic functions, the active and passive processes that shape A/C and PP AMPA and NMDA receptor-mediated unitary EPSP/EPSC (AMPA and NMDA uEPSP/uEPSC) have not been fully characterized yet. Here we find no differences in somatic amplitude between A/C and PP for either AMPA or NMDA uEPSPs. However, larger AMPA uEPSCs were evoked from proximal than from distal A/C or PP. Given the space-clamp constraints in CA3 pyramidal cells, these voltage clamp data suggest that the location-independence of A/C and PP AMPA uEPSP amplitudes is achieved in part through the activation of voltage dependent conductances at or near the soma. Moreover, similarity in uEPSC amplitudes for distal A/C and PP points to the additional participation of unclamped active conductances. Indeed, the pharmacological blockade of voltage-dependent conductances eliminates the location-independence of these inputs. In contrast, the location-independence of A/C and PP NMDA uEPSP/uEPSC amplitudes is maintained across all conditions indicating that propagation is not affected by active membrane processes. The location-independence for A/C uEPSP amplitudes may be relevant in the recruitment of CA3 pyramidal cells by other CA3 pyramidal cells. These data also suggest that PP excitation represents a significant input to CA3 pyramidal cells. Implication of the passive data on local synaptic properties is further investigated in the companion paper with a detailed computational model.