04.05.2016 | Original Paper | Ausgabe 10-12/2016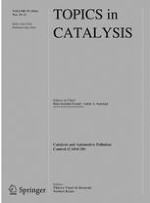 Passive SCR: The Effect of H
\(_2\)

to NO Ratio on the Formation of NH

\(_3\)

Over Alumina Supported Platinum and Palladium Catalysts
Zeitschrift:
Autoren:

Emma Catherine Adams, Magnus Skoglundh, Pär Gabrielsson, Per-Anders Carlsson
Abstract
We investigate the relationship between the H
\(_2\)
:NO ratio and NH
\(_3\)
formation over alumina supported Pt and Pd catalysts. By kinetic studies and in situ infrared spectroscopy, we report that NH
\(_3\)
formation is not only sensitive to the catalyst formulation but equally dependent on the feed gas composition and temperature. Specifically, we identify that hydrogen plays an important role in the dissociation of NO at low temperature. We also show that the support material itself plays a vital role in the ammonia formation mechanism due to the redox behaviour of NO adsorption at low temperature. This was unexpected as the noble metal is generally considered to be the active phase for the reaction of NO and H
\(_2\)
.