10.05.2016 | Ausgabe 6/2016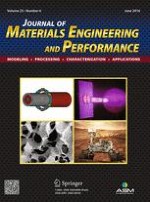 Passivity and Localized Corrosion of AZ31 Magnesium Alloy in High pH Electrolytes
Zeitschrift:
Autoren:

Sultan Alsagabi, Jakraphan Ninlachart, Krishnan S. Raja, Indrajit Charit
Abstract
Electrochemical corrosion tests were carried out on AZ31 magnesium alloy specimens in pH: 4.5, 9.5, and 13.0 solutions with 0-2000 ppm of chloride additions at room temperature. No passivity breakdown was observed during cyclic polarization in pH:13 solutions containing up to 1500 ppm of chloride. Addition of sodium sulfate and sodium dihydrogen phosphate as supporting electrolytes offset the chloride effect on the corrosion of AZ31 in pH 4.5 and 9.5 solutions. The Mott-Schottky analysis showed the presence of a duplex surface layer consisting of an n-type MgO
1−

x
inner layer (
x
= 0.024-0.05), and a p-type outer layer which thickened with time at the expense of the inner layer.