21.07.2017 | Ausgabe 3/2017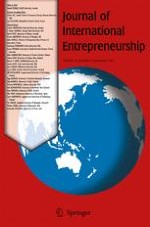 Paths of evolution for the Chinese migrant entrepreneurship: a multiple case analysis in Italy
Zeitschrift:
Autoren:

Simone Guercini, Matilde Milanesi, Gabi Dei Ottati
Wichtige Hinweise
The research on which the present study is based was conducted in the framework of the Department of Economics and Management of the Università degli Studi di Florence, and the Marketing and Internationalization laboratory (LabMI) at the PIN of Prato (Italy).
Abstract
Chinese diaspora is one of the most important areas in the field of immigrant entrepreneurship and the Chinese case is, for absolute numbers, entrepreneurship rates and scientific attention, one of the most significant phenomena in the world and in Italy. While much of the literature on the topic focuses on ethnic networks and social ties, there is a lack of studies that acknowledge the role of business networks in the later growth of migrant entrepreneurship, when the importance of social ties within the ethnic community diminishes. This paper tries to answer the following research question:
Which is the role of ethnic networks and business networks in the path of evolution of Chinese migrant entrepreneurship?
Thus, the paper analyses the structure and characteristics of ethnic networks and business networks and the role of each in the growth and evolution of Chinese migrant entrepreneurship. Our research considers business networks as the main focus of analysis that may replace social ties in consolidating insidership in new business settings and in finding new opportunities. A qualitative methodology is adopted, namely a multiple case study. Five cases of individual Chinese companies settled in a specific area are presented, for which the networks in which they are involved are traced and analysed. The case analysis shows that in the evolution of Chinese migrant entrepreneurship, ethnic networks are very important in the early phases of the business, but the role of cross-cultural business networks becomes relevant for further development. Implications—managerial and for policy makers—are highlighted and discussed.