01.08.2014 | Original Contribution | Ausgabe 8/2014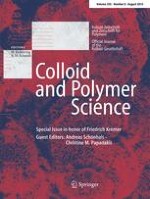 Patterned monomolecular films from polymerizable and fluorinated lipids for the presentation of glycosylated lipids
Zeitschrift:
Autoren:

Martin Scherer, Patrick Scheibe, Jérôme Schoenhentz, Anja Hoffmann-Röder, Rudolf Zentel
Wichtige Hinweise
Dear Frieder, from 1986 to about 2001 I had the pleasure of a very close cooperation with you, starting in the time of our "academic graduation (Habilitation)". Although we worked together mostly on ferroelectric LC-materials and LC-elastomers, I know your interest in biorelated topics. Thus I hope that you enjoy this piece of work, which describes the stabilization of "patchy" membrane models. Rudolf
Abstract
This paper deals with pattern formation in Langmuir monolayers of two sets of lipid mixtures that include (1) a fluorinated lipid for phase separation, (2) a polymerizable lipid for stabilization of the patterned structure, and (3) a unit for the presentation of biological recognition units. Differences in the distribution of these functionalities allow a polymerization of dispersed or continuous phase and a placement of the recognition units in crystalline or solid analogue phase. Also, a ternary mixture including a lipid modified with the tandem repeat domain of MUC1 plus a T
N
-antigen was studied. Based on the biphasic pattern obtained (starlike crystals of up to 50 μm with a fine structure of some micrometers), we also verified the potential of the laterally patterned monolayer to stimulate the immune system (quartz crystal microbalance). The second set of lipids combines a highly fluorinated itaconic ester (polymerizable unit) with the natural phospholipid 1,2-dimyristoyl-
sn
-glycero-3-phosphoethanolamine.