2019 | OriginalPaper | Buchkapitel
5. Payment for Environmental Services: How Big Must Be the Check to Multiproduct Farmers?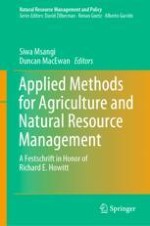 Erstes Kapitel lesen
Autoren: Marcelo Torres, Richard E. Howitt
Abstract
Environmental conservation policies based on the payment for environmental services (PES) are being increasingly adopted around the world. Among several factors that may dictate the success of a PES conservation program is the payment or monetary compensation level. As participation in the program is voluntary, if payments are not enough to compensate for the eventual economic losses faced by the users, users will not participate, and conservation goals will not be achieved. Also if payments are set significantly higher than the users' opportunity costs, conservation goals are more likely to be achieved, but the program will not be cost-effective. In this context, by using primary data from a watershed in the Brazilian Savannah, this contribution calculates opportunity costs using an agricultural net-revenue multiproduct model, parameterized with the use of positive mathematical programming (PMP) method and coupled with a hydrological model. It is shown that land and water opportunity costs not only vary from farmer to farmer due to differences in crop and input mix but also the variations in water supply affect land use opportunity costs. And, in turn, land supply affects water use opportunity costs. Given this, researchers and policy makers should not be surprised that agricultural PES programs that rely on a flat, crop-and-farmer invariant compensation value per hectare often result in failure and cost-ineffectiveness.