2018 | OriginalPaper | Buchkapitel
4. PCIJ/ICJ Practice on Treaty Interpretation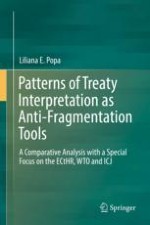 Erstes Kapitel lesen
Autor: Liliana E. Popa
Abstract
In Chap.
2
, I provided an overview of the major theoretical propositions related to the potential 'fragmentation' of international law as a result of the proliferation of international judicial bodies which could apply international law differently. Using the insights provided in the second chapter, in the present chapter and in the subsequent ones, I will attempt to empirically verify those propositions from the perspective of
treaty interpretation
, relying on case law analyses at the PCIJ/ICJ and two major specialised judicial bodies, the ECtHR and WTO, and also on scholarship. Since the 1969 VCLT purported to eliminate the conceptual difficulties related to treaty interpretation, I take into my empirical analysis the moment of the adoption of the 1969 Vienna Convention as a conventional
historical point
. My assumption is that there is both an
internal coherence
dimension for treaty interpretation—each individual court (ICJ, ECtHR, WTO) applying coherently and consistently the same (canons) customary rules of treaty interpretation, both prior and after the adoption of the 1969 VCLT—and an
external coherence
dimension, which is given by the existence of common patterns of treaty interpretation applied by the ICJ, ECtHR, WTO and also by the use of the ECtHR and WTO of the ICJ's precedents on treaty interpretation. Thus, I provide in this chapter an analysis of the treaty interpretation approaches of the PCIJ/ICJ over the last 90 years, respectively both prior to and post the adoption of the 1969 VCLT. This framework of analysis will be used in the subsequent chapters in order to detect the internal/external coherence of treaty interpretative practice at the ECtHR and the WTO. Based on case law analyses, I show in this chapter that the ICJ's approaches to interpretation, prior to, and after, the VCLT's adoption, are consistent with the canons of treaty interpretation, which this Court has greatly developed and applied since its inception. Finally, the case law analysis reveals a preference of the PCIJ/ICJ for
holistic
interpretation, thus for the use of more rules and methods of interpretation than initially declared, in an interpretative pattern/approach that I termed 'overbuilding'. I argue that even if a conclusion of a case could apparently be obtained by the ICJ upon one (declared) method of interpretation, the Court does not stop the interpretation but continues with the application of other rules/methods (expressly or implicitly) that eventually lead to the same conclusions. The ICJ develops its process of building/overbuilding the case of interpretation by successive steps (expressly declaring the applicable rules/methods or only suggesting them), each step enhancing the conclusions reached after applying the rule/s and method/s it expressly (or implicitly) stated. The
holistic
character that the ICJ imprints to treaty interpretation is also reflected in this Court's tendency to ascribe equal interpretative value to each of the rules of interpretation employed in a given case, since all rules serve in rendering the final decision.