15.07.2016 | Original Paper | Ausgabe 5/2016 Open Access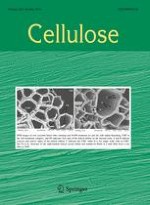 Per-
O

-acylation of xylan at room temperature in dimethylsulfoxide/

N

-methylimidazole
Zeitschrift:
Autoren:

Xueqin Zhang, Aiping Zhang, Chuanfu Liu, Junli Ren
Abstract
The per-
O
-acylation of xylan-type hemicellulose was firstly carried out in dimethylsulfoxide/
N
-methylimidazole (DMSO/NMI) at room temperature without additional catalyst. The optimum conditions for esterification of xylan was investigated in terms of the molar ratio of reagents to anhydroxylose units (AXU) in xylan and the kinds of esterification reagents to obtain a high degree of substitution (DS, 1.98) and weight percent gain (WPG, 86.88 %) of xylan esters. In this solvent system, NMI acted as a solvent, a base and an excellent catalyst, therefore, the per-
O
-acylation of xylan (DS of 1.98) was readily accomplished in DMSO/NMI system at room temperature. Structure elucidation of xylan esters was characterized by FT-IR and NMR (
1
H-NMR,
13
C-NMR and HSQC). FT-IR and NMR analyses provided the direct evidence of per-
O
-acylation of xylan under the given conditions. Furthermore, HSQC revealed the higher reactivity of hydroxyls at C-2 position than those at C-3 position of xylan. The solubility of xylan in DMSO, DMF and CHCl
3
improved after esterification. TGA/DTG indicated that the thermal stability of xylan increased after the esterification with anhydrides, while decreased with acyl chlorides, probably due to degradation and hydrolysis of the acylated xylan at the presence of by-product hydrochloric acid.