2016 | OriginalPaper | Buchkapitel
Perceived Intensity of Vibrotactile Stimuli: Do Your Clothes Really Matter?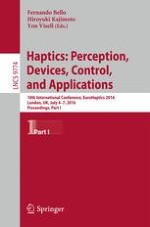 Erstes Kapitel lesen
Autoren: Valérie Duthoit, Jean-Marc Sieffermann, Eric Enrègle, David Blumenthal
Abstract
Vibrotactile stimuli are of growing interest for everyday interfaces, including car interfaces. For example they can be applied to lane departure warning, collision warning, notifications etc. Yet interfaces that are not directly in contact with the user's skin must take clothing into account. This study investigates whether clothes have a significant effect on perceived intensity of simple vibrotactile stimuli or not, and therefore if they have to be taken into account in the setting of vibrotactile feedback. In this study, we considered a single actuator on the back of a car seat, which was covered by a thin layer of foam, a layer of clothes, and hidden by a black covering. Simple vibrations of 1 s with frequencies ranging from 100 Hz to 200 Hz and three different amplitude levels were triggered. The lowest of them were below several subjects' detection thresholds. We asked 31 subjects to give a score from 0 to 10 to assess the intensity of the stimulus. Results showed that perceived intensity is adversely affected by a thick winter coat but seems to be lightly affected by several thin layers such as T-shirts. We concluded that designers do not have to consider all the variety of clothes to set the vibration parameters, but they must take winter coats into account if final users are expected to wear that type of clothing. Moreover, we demonstrated the ability of naive subjects to score their perception of intensity of simple vibrotactile stimuli.