01.06.2015 | Ausgabe 2/2015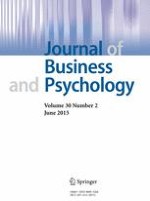 Perceptions of Nepotism Beneficiaries: The Hidden Price of Using a Family Connection to Obtain a Job
Zeitschrift:
Autoren:

Margaret Y. Padgett, Robert J. Padgett, Kathryn A. Morris
Abstract
Purpose
This study tested competing predictions about the impact of nepotistic hiring on perceptions of nepotism beneficiaries, focusing specifically on the performance attributions made about nepotism hires. Of particular interest is how the qualifications of the family member compared to other applicants impacts perceptions of the nepotism hire.
Methodology
Two experimental studies, using scenarios that simulated the hiring process, were conducted. Participants reviewed materials describing the hiring process for a manager and then completed a questionnaire assessing their perceptions of the person hired.
Findings
Results showed that successful performance of nepotism beneficiaries was attributed more to political skills and relationships with upper management and less to ability and effort than was the case for non-beneficiaries and that they were perceived as less competent and as having fewer characteristics of successful managers. These negative perceptions occurred regardless of the family member's qualifications.
Implications
This study contributes to our understanding of nepotistic hiring practices. More negative performance attributions and perceptions of competence for nepotism beneficiaries may hinder their effectiveness on the job. Knowledge gained from this study may help businesses who want to hire family members of current employees to manage this process more effectively.
Originality/Value
This is one of the first studies to examine the consequences of nepotistic hiring for nepotism beneficiaries and the first study to examine how nepotistic hiring effects the performance attributions made about nepotism beneficiaries. It is also the only study to empirically examine how the qualifications of the nepotism beneficiary influence others' reactions to them.