01.12.2009 | Mesostructured Materials | Ausgabe 24/2009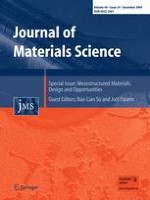 Perfluoroalkylsulfonic acid-functionalized periodic mesostructured organosilica: a strongly acidic heterogeneous catalyst
Zeitschrift:
Autoren:

David Dubé, Micha Rat, Wei Shen, François Béland, Serge Kaliaguine
Abstract
Periodic mesostructured organosilicas (PMO) were synthesized using 1,2-bis(trimethoxysilyl)ethane (BTME) under acidic conditions using Pluronic 123 as surfactant. The PMO ethane-silicas were then grafted with 1,2,2-trifluoro-2-hydroxy-1-trifluoromethylethane sulfonic acid β-sultone yielding a new perfluoroalkylsulfonic acid PMO catalyst. Ordered hexagonal mesostructures (
P
6
mm
) with surface areas up to 500 m
2
/g and narrow pore size distribution (around 5.1 nm) were obtained. This work thus provides an example of chemical modification for the conception of functionalized PMO acid catalysts. Liquid phase self-condensation of heptanal and acetalization of heptanal by 1-butanol were performed at 30 and 75 °C in the presence of these catalysts and results were compared with those obtained with several other heterogeneous hydrophobic acid catalysts.