01.08.2013 | Ausgabe 4/2013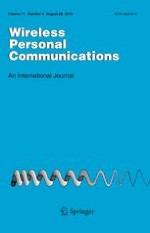 Performance Analysis of Incremental Amplify-and-Forward Relaying Protocols with Nth Best Partial Relay Selection Under Interference Constraint
Zeitschrift:
Autoren:

Tran Trung Duy, Hyung-Yun Kong
Abstract
In this paper, we investigate two incremental amplify-and-forward relaying protocols in cognitive underlay networks. In the proposed protocols, whenever the secondary destination cannot receive the secondary source's signal successfully, it requests a retransmission from one of
M
secondary relays. In the first protocol, we assume that a secondary relay with the
N
th best channel gain to the secondary source is used to forward the received signal to the secondary destination. In the second protocol, relying on the quality of channels between the secondary relay and secondary destination and between the secondary relay and primary user, the
N
th best relay is chosen for the retransmission. We derive exact closed-form expressions of the outage probability and average number of time slots for both protocols over Rayleigh fading channel. Finally, these mathematical expressions are then verified by Monte Carlo simulations.