11.05.2018 | Technical Paper | Ausgabe 12/2018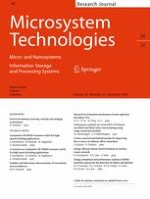 Performance analysis of series: shunt configuration based RF MEMS switch for satellite communication applications
Zeitschrift:
Autoren:

P. Ashok Kumar, K. Girija Sravani, B. V. S. Sailaja, K. V. Vineetha, Koushik Guha, K. Srinivasa Rao
Wichtige Hinweise
Publisher's Note
Springer Nature remains neutral with regard to jurisdictional claims in published maps and institutional affiliations.
Abstract
In this paper the RF-MEMS switch with series–shunt configuration on a single quartz substrate is presented to achieve high isolation than the individual series or shunt switches. This paper presents the isolation of series–shunt configuration switch of 84.7 dB is achieved at 26 GHz when both switches are in OFF state which is higher than the OFF state of the individual series switch and shunt switches. The return loss (s11) is less than − 60 dB, insertion loss is less than − 0.09 dB is observed for better performance in satellite communication applications. The series/ohmic and shunt/capacitive membranes are designed with uniform spring structure and crab leg structure, respectively and simulated using FEM tool. Ashby's method is used to select the materials for the switch membranes/beam and dielectric layer. The gap between the dielectric and the movable beam is maintained at 3 µm in series switch and 2.5 µm for shunt switch to achieve same pull-in voltage of 23.5 V. The up-state and down-state capacitance of the device is calculated and compared with the simulated results which are 0.24 and 14.2 fF, respectively by considering TiO2 as a dielectric layer between membrane and lower electrode.