14.09.2019 | Ausgabe 2/2020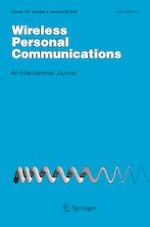 Performance Comparison of 2 × 20 Gbit/s-40 GHz OFDM Based RoFSO Transmission Link Incorporating MDM of Hermite Gaussian Modes Using Different Modulation Schemes
Zeitschrift:
Autoren:

Mehtab Singh, Jyoteesh Malhotra
Wichtige Hinweise
Publisher's Note
Springer Nature remains neutral with regard to jurisdictional claims in published maps and institutional affiliations.
Abstract
The shortage of radio frequency spectrum for wireless communication networks has been addressed by using millimeter wave (mm-wave) transmission in optical-wireless and Radio over Free space optics (RoFSO) links. This work reports the performance comparison of 4-level quadrature amplitude modulation (QAM) and phase shift keying (PSK) based orthogonal frequency division multiplexing-RoFSO transmission link under the effect of atmospheric turbulence. Two independent 20 Gbit/s-40 GHz information signals are transmitted over distinct Hermite Gaussian modes (HG01 and HG03) under heavy fog conditions using different modulation schemes over a link range of 2000 m. The results presented show that 4-QAM scheme performs better as compared to 4-PSK scheme. Also, we report the modal decomposition of the transmitted channels in terms of linear polarized modes at the receiver terminal. The proposed work can be used for realizing long-reach high-capacity bandwidth efficient information transmission links.