2011 | OriginalPaper | Buchkapitel
16. Performance Control: Nondestructive Testing and Reliability Evaluation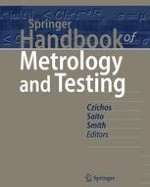 Erstes Kapitel lesen
Autoren: Dr. Uwe Ewert, Dr. Gerd-Rüdiger Jaenisch, Dr. Kurt Osterloh, Dr. Uwe Zscherpel, Prof. Claude Bathias, Dr. Manfred P. Hentschel, Prof. Anton Erhard, Dr. Jürgen Goebbels, Holger Hanselka, Bernd R. Müller, Jürgen Nuffer, Dr. Werner Daum, David Flaschenträger, Enrico Janssen, Bernd Bertsche, Daniel Hofmann, Jochen Gäng
Verlag: Springer Berlin Heidelberg
Abstract
The performance of materials – as constituents of the components of engineering systems – is essential for the functionality of engineering systems in all branches of technology and industry. Instrumental for characterizing the performance of materials are
1.
methods to study and assess the basic damage mechanisms that detrimentally influence the proper functioning of materials, such as materials fatigue and fracture (Chap. 7), corrosion (Chap. 12), friction and wear (Chap. 13), biogenic impact (Chap. 14), materials–environment interactions (Chap. 15)
2.
methods to study and assess the performance of materials in engineering applications and to support condition monitoring of materials' functional behavior.
In this chapter the following experimental and theoretical methods for performance control and condition monitoring are compiled.
Nondestructive evaluation (NDE) methods

Methods of industrial radiology

Methods of computed tomography (CT)

Embedded sensors techniques to monitor structural health and to assess materials performance in situ under application conditions

Methods to characterize the reliability of materials with statistical tools and test strategies for structural components and complex engineering systems.