18.03.2020 | Ausgabe 6/2020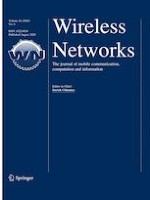 Performance evaluation of a C-RAN supporting a mixture of random and quasi-random traffic
Zeitschrift:
Autoren:

Iskanter-Alexandros Chousainov, Ioannis Moscholios, Alexandros Kaloxylos, Michael Logothetis
Wichtige Hinweise
Publisher's Note
Springer Nature remains neutral with regard to jurisdictional claims in published maps and institutional affiliations.
Abstract
In this paper we consider a cloud radio access network (C-RAN) where the remote radio heads (RRHs) are separated from the baseband signal processing servers, named baseband units (BBUs). The latter forms a centralized pool of high-performance data center resources. To benefit from network function virtualization, we consider virtualized BBU (V-BBU) resources where the BBU functionality and services have been virtualized in the form of virtual network functions. All RRHs in the C-RAN form a single cluster. Each RRH of such a cluster may accommodate random or quasi-random traffic. That means that new calls in a RRH can be generated by an infinite number of mobile users (random traffic) or by a finite number of mobile users (quasi-random traffic). An arriving call requires a radio resource unit from the serving RRH and a computational resource unit from the V-BBU. If these resource units are available, then the call is accepted and remains in the system for a generally distributed service time. Otherwise, the call is blocked and lost. In order to analyze this C-RAN we model it as a loss system and study two cases: (i) all RRHs accommodate quasi-random traffic and (ii) some RRHs accommodate random traffic and the rest accommodate quasi-random traffic. In both cases, we show that the steady state probabilities have a product form solution and propose convolution algorithms for the accurate determination of the main teletraffic performance measure which is congestion probability. The accuracy of these algorithms is verified via simulation.