01.10.2016 | Ausgabe 9-10/2016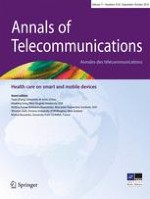 Performance evaluation of co-located IEEE 802.15.4-based wireless body sensor networks
Zeitschrift:
Autoren:

Amirhossein Moravejosharieh, Jaime Lloret
Abstract
Wireless body sensor networks (WBSNs) are expected to play a pivotal role in health-related and well-being applications. In this paper, we consider a situation in which a large number of people wearing body sensor networks are gathered in very close vicinity (as can happen in sport events or emergency hospitals). Clearly, BSNs compete with each other to gain access to the same frequency which results in experiencing mutual (internal) interference. Therefore, we investigate the "internal interference" and its destructive impacts on the overall performance gain of WBSNs using IEEE 802.15.4 standard protocol. As the number of WBSNs increases in the channel, it becomes highly likely for active periods of neighbouring WBSNs to overlap with each other. The increase in overlapping active periods would increase the probability of packet collisions leading to performance degradation. In this paper, two types of interference mitigation strategies are proposed, namely
passive schemes
and
active scheme
. The terms passive and active refer to the absence and presence of the capability of communication between WBSNs to efficiently utilise the same frequency spectrum. According to the passive schemes, WBSNs are enabled to change their operating frequencies whenever required to mitigate the impacts of internal interference, whereas active scheme offers collaborative utilisation of the channel. The simulation results show that the proposed active scheme represents the highest performance gains compared to the proposed practical passive schemes.