2018 | OriginalPaper | Buchkapitel
16. Performance Evaluation of Normalization Approaches for Metagenomic Compositional Data on Differential Abundance Analysis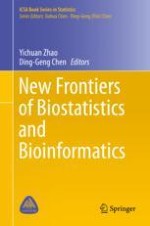 Erstes Kapitel lesen
Autoren: Ruofei Du, Lingling An, Zhide Fang
Abstract
Background
: In recent years, metagenomics, as a combination of research techniques without the process of cultivation, has become more and more popular in studying the genomic/genetic variation of microbes in environmental or clinical samples. Though generated from similar sequencing technologies, there is increasing evidence that metagenomic sequence data may not be treated as another variant of RNA-Seq count data, especially due to its compositional characteristics. While it is often of primary interest to compare taxonomic or functional profiles of microbial communities between conditions, normalization for library size is usually an inevitable step prior to a typical differential abundance analysis. Some methods have been proposed for such normalization. But the existing performance evaluation of normalization methods for metagenomic sequence data does not adequately consider the compositional characteristics.
Result
: The normalization methods assessed in this chapter include Total Sum Scaling (TSS), Relative Log Expression (RLE), Trimmed Mean of M-value (TMM), Cumulative Sum Scaling (CSS), and Rarefying (RFY). In addition to compositional proportions, simulated data were generated with consideration of overdispersion, zero inflation, and under-sampling issue. The impact of normalization on subsequent differential abundance analysis was further studied.
Conclusion
: Selection of a normalization method for metagenomic compositional data should be made on a case-by-case basis. Simulation using the parameters learned from the experimental data may be carried out to assist the selection.